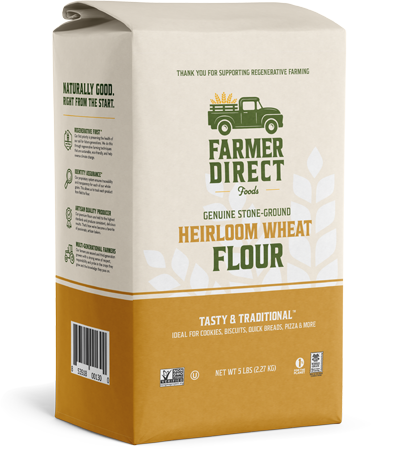 Our Heirloom Wheat Flour is made with Turkey Red wheat, a heritage grain that predates modern breeding. Turkey Red arrived in the United States in the early 1870's, brought to Kansas by Russian Mennonite farmers.
Expertly stone-ground to retain all the nutrients and protein, this flour boasts a robust "wheaty" flavor profile and a finer texture than traditional whole wheat flour. This makes it a healthier choice for your customers that will elevate your baked goods.
Additionally, many people find heirloom grains to be more easily digestible than conventional modern wheat.
Ideal for: sourdough, pizza dough, brownies, cookies, & more.
Available pack sizes: 5 lb., 50 lb., and Totes
Protein: > 10.5%
Ash: 1.4-1.8%
Moisture: Maximum 14%
Our flours are exactly what we say they are — traced straight back to our farmers' ancestral wheat fields and minimally processed to assure we preserve the natural nutrition, deep flavor and complete character of the grain.