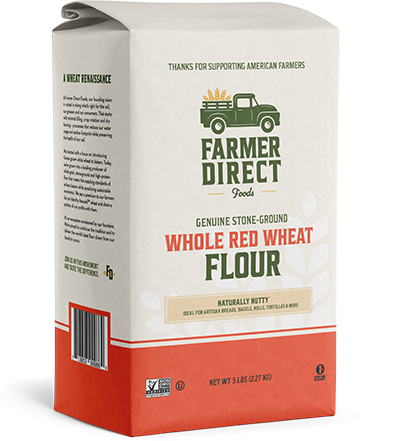 Our Whole Red Wheat Flour is a versatile, high-protein flour that is perfect for a variety of baking applications. It's rich, nutty flavor and chewy texture adds depth and character to any recipe.
This flour is 100% whole grain and 100% stone-ground to retain the natural nutrition of the grain, making it a great choice for bakers looking for a healthy and flavorful flour option.
In addition, many Indian bakers have found this to be a perfect substitute for traditional atta flour.
Ideal for: artisan breads, yeast breads, flatbreads, roti, chapati, tortillas & more.
Available pack sizes: 5 lb., 50 lb., and Totes
Protein: 12.5-13.5%
Ash: 1.4-1.8%
Moisture: Maximum 14%
Our flours are exactly what we say they are — traced straight back to our farmers' ancestral wheat fields and minimally processed to assure we preserve the natural nutrition, deep flavor and complete character of the grain.